Altai Mountain Biking Tour - 14 days
Duration:

14 days

Price From:

2332 $

Group Size:

2-12 persons
Difficulty Rating:

Moderate to demanding
Overview
A first-rate mountain biking journey yet technically affordable to any traveler of average cycling ability. The epic journey takes you across the Altai mountain range in the far west of the country, the land of snow-capped peaks, alpine lakes, and glaciers. Nomadic people inhabiting this remote corner of Mongolia lead the traditional nomadic herding way of life where the economy is fully reliant on the five principal animals: horses, camels, bovines, sheep, and goats.
---
See the highest peaks in Mongolia
Sensate the pristine wilderness
Immerse in authentic nomadic culture
Explore ancient rock art and burial places
Pedal through diverse landscapes
Enjoy comfortable camping in idyllic natural locations
Visit the vibrant capital city of Ulaanbaatar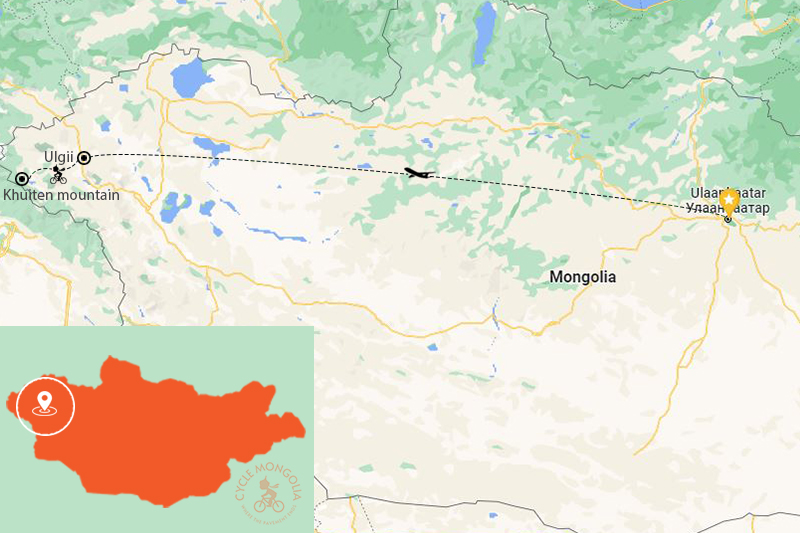 ---
---
Itinerary
Arrival to Ulaanbaatar

Upon arrival in Ulaanbaatar (UB) you will be met by your guide and transferred to a hotel in the city center. Time permitting you will be taken on a guided tour to some of the city's highlights, including a giant Buddha statue at Mongolia's main Buddhist center, the National museum and the central square. A traditional throat singing and contortion performance will be presented at the end of the day. At a welcome dinner you will be given an informal introduction to the tour ahead of you.

Fly western Mongolia and start biking

Transfer to airport and fly to the westernmost province of Bayan-Olgiy where the country's highest mountains lie. On arrival meet with the support team and start biking straight from the airport heading towards the mountains and acclimatizing to the dry air and altitude. The 55km tarmac stretch is the only sealed part of the whole journey of 550km across the Altai mountain range. Tonight we erect our tent camp not far from the Mongolian-Russian border. When camping 3 person dome tents are provided on twin share basis together with a mess tent and a camping shower. Plus we carry a toilet tent with a seat placed over a cat hole.

Breakfast, lunch, dinner
Tent
55km, 960m up, 540m down

Cycle to Khaishintsar Mt.

Two thirds of the way is a gradual ascent along the Russian borderline on desolate mountain roads and faint tracks until reaching the day's highest point at 2575m. Vast numbers of domesticated animals mainly yaks and goats grazing on steep slopes and rugged ridges can be often seen. They belong to local Muslim Kazakhs whose felt walled tents known as gers or yurts can also be seen in twos or threes. An occasional encounter with a curious shepherd or local children always offers a chance for taking some good photos. The last 20km is a downhill to a grassy campsite by a small stream. We sleep at almost 2200m.

Breakfast, lunch, dinner
Tent
65km, 620m up, 540m down

Cycle to Baga Oigor petroglyph gallery

We cycle further west across mountainous desert with terrain that requires more climbing than the previous days. Although the riding surface is dominated by packed soils rocky tracks and loose soil are also present especially near the tops of mountain passes. The destination is the Baga Oigor valley, the site of an extensive petroglyph gallery included in the UNESCO "World Cultural Heritage List. Stone and Bronze Age rock carvings here are scattered across an area 15km long and 500m wide. Images depict wild and domestic animals and scenes of human life such as hunting, herding, worship etc. Here we set up our tented camp and explore the rock art gallery.

Breakfast, lunch, dinner
Tent
65km, 1570m up, 1430m down

Ride to Tavan Bogd National park

We continue a short while along the rugged folds of Baga Oigor valley and stop at a border patrol station to settle formalities. The road then climbs up a grassy shoulder between two dome shaped mountains. This brings us to an enormous V-shaped mountain valley with clear streams running down from glaciers that cover the ridge top. The main feature of the mountains here is the alternation of grassy slopes with massive walls of loose scree. Here we cycle by some alpine lakes, a summer base for local Kazakh herdsmen. They live in large mushroom-like yurts and tend their massive flocks of yaks and goats. It will be interesting to visit them and learn about the way of life which seemingly hasn't changed for many hundreds of years. At the day's end we arrive to Tavan Bogd NP gate, a few yurts - home of local rangers at the foothill of even bigger mountains.

Breakfast, lunch, dinner
Tent
45km, 700m up, 320m down

Ride to Tavan Bogd viewpoint and descend to White river

We pedal and push the bikes on the high mountain terrain strewn with running streams and patches of snow. The day's halfway point is an elevated hill from which there opens a panoramic view of Mongolia's highest peaks and largest glaciers. We have picnic lunch while enjoying the magnificent views before heading down towards a deep V-shaped valley at the bottom of which rumbles a torrential river full of glacial silt. This is the White river. Its lush valley is the summer pastureland of herding nomads. We free-wheel down a steep slope and arrive to our campsite by the glacial river.

Breakfast, lunch, dinner
Tent
27km, 380m up, 740m down

Ride to Kharnoor lake

We roll down the White river valley and visit a Tuvan family. Also known as the Uriankhai this ethnic people of Turkic origin have historically been moving around southern Siberia. Traditionally they practice shamanism - a worship of ancestral and natural spirits but today their belief is a strong blend with Tibetan Buddhism. We use the chance to learn of their way of life and to taste food and drinks offered by the unwritten local rules. After the visit we climb back to the brim of the valley towards Holy Mt. Shiveet and cycle along its base. A massive flat rock strewn with hundreds of images of wild beasts, cattle and hunting people lies at the mountain east end. From there we roll downhill into the widening valley for another 20km. After lunch we leave the White river valley behind and climb to a highland tundra using seasonal migration roads. We spend the night at 2600m.

Breakfast, lunch, dinner
Tent
65km, 1270m up, 1090m down

Bike to Khoton lake

Continue further south enjoying spectacular scenery: grassy uplands, alpine lakes and rugged hills. We will be travelling at an average altitude of 2500m but still depending on the time in the summer we might come across locals moving with antique Russian trucks fearlessly negotiating tricky mountain roads. We may as well meet Kazakh hunters who train golden eagles and use them for hunting. Although actual hunting is done in winter you can still see the massive birds and have a photo taken holding one on your arms to impress your family and friends. At the day end arrive to Khoton, a spectacular alpine lake bordering with China's Xinjiang province.

Breakfast, lunch, dinner
Tent
45km, 950m up, 1360m down

Rest day

We spend a well-earned rest day at ease. The Khoton lake campsite is truly idyllic. A snow-capped ridge marking the borderline with China and wooded slopes below reflect in the mirror-like surface of the lake. You can go swimming or explore some distinctly well preserved Bronze-age rock carvings just beside the camp.

Breakfast, lunch, dinner
Tent

Ride to Black lake

We cross a narrow straight linking the Khoton with its "sister" lake called Khurgan and ride along the latter enjoying views of the snow-capped ridge that marks the borderline with China and pretty woods at its foot. Our camp tonight will be at another highland lake with the snow-capped Mt. Tsengel as the backdrop.

Breakfast, lunch, dinner
Tent
75km, 1100m up, 700m down

Ride to Sagsay town

Ride north-east enjoying views of the 3943m Mt. Tsengel. Its rugged foothills and grassy slopes are a perfect grazing for yaks and sheep of which you will see hundreds along the way. The morning riding is easy with a general downward inclination. Then after lunch we climb to the top of a dry ridge at 2660m followed by a 15km fast downhill to our next campsite amidst the semi-desert landscape.

Breakfast, lunch, dinner
Tent
75km, 900m up, 1610m down

Return to civilization

The last 35km to Olgiy town are rather uneventful. The tour's last challenge will be climbing 400m in 8km. A descent on a dusty road will bring us to the edge of the capital of the westernmost province and to a cozy hotel just in time for a shower and beers to celebrate the end to the cycling adventure. Tonight you will have a chance to enjoy some Kazakh songs and music and traditional delicacies.

Breakfast, lunch, dinner
Hotel
35km, 500m up, 560m down

Fly back to UB, good-bye dinner

Transfer to Olgiy airport and fly back to UB. Upon arrival transfer to your hotel. Rest until we gather for a farewell dinner.

Departure

Transfer to the airport for your return flight back home.
---